Profile

Free Account
Created on 2011-12-25 06:02:38 (#1261966), last updated 2011-12-27 (299 weeks ago)
0 comments received, 3 comments posted
18 Journal Entries, 43 Tags, 0 Memories, 31 Icons

About
| | |
| --- | --- |
| Name: | 02vocaloid |
| Birthdate: | Feb 23 |
| | |
| | |

Mini Bio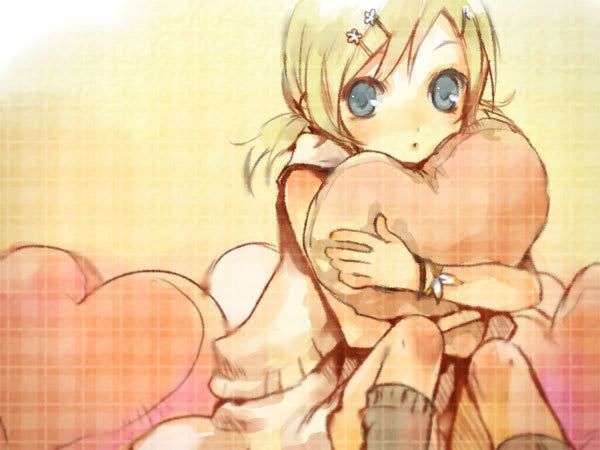 ♥ LINK ♥ LINK ♥ LINK ♥ LINK ♥

Bio
♥ Will have soon


</td>


Rin Kagamine
♥ House and Year: 4th Hufflepuff
♥ Age: 14
♥ Birthday: 12/27
♥ Blood status: Muggleborn
♥ Wand: Will have soon

Family and friends
♥ Family:Len Kagamine: twin brother

♥ Friends:
♥♥♥♥♥Ryohei Sasagawa, 5th year Gryffindor: A boy that Rin got to meet before going to Hogwarts, for a while she wasn't sure how to feel about him. But over time she realized she liked him, after asking him out herself they are now dating.
♥♥♥Kaoru Hitachiin, 5th year Gryffindor: He helped her after Len left and they have grown close. She considers him one of her best friends and can talk to him about pretty much anything.
♥♥Rise Kujikawa, 5th year Hufflepuff: A good friend, Rin got to know her by the girl being a huge fan and from there they saw they had a lot in common and started to hang out.
♥ Neutral:
♥?Rasiel Varia, 6th year Slytherin: The boy told her men only want sex, and that she should..."dress the part." Even though he said that he hasn't been incredible rude so she isn't sure what to think of him.
♥ Enemies:
-♥♥♥Saralegui Sargon, 6th year Slytherin: When it comes to hate someone, this is someone Rin really can't stand!Her first time meeting the boy was after he was mean to Kaoru, from then on they have been at each. His most recent insult to her was to tell her she was only a settle for Ryohei.


Profile code by Tsukishiro16 @ ringo_biyori

People
[View Entries]

Communities
[View entries]

Member Of (1):

Subscriptions (3):

Administrator Of (0)

Feeds
[View Entries]

Subscriptions (0)

Linking
To link to this user, copy this code:
On Dreamwidth:
Elsewhere: